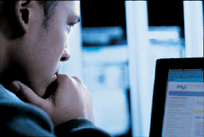 Our NOC (Network Operations Center) utilizes real-time traffic analysis software tools to analyze call routing statistics for proactive troubleshooting and monitoring of network performance. This allows us the capability of terminating call traffic to and from the Internet or PSTN via the fastest and most secure routes with Tier-One quality.

The NOC was designed to be operational 24 hours a day, 365 days a year, manned by highly trained engineers with a comprehensive suite of diagnostic tools that constantly monitor the metrics related to the current state of Blue Wave's network at any given time. In many cases we are able to automatically reroute terminating traffic through other parts of our network without a caller even realizing that a problem has occurred.

We are committed to your satisfaction.